Bridging the gap between intention and action
We often dream big, make plans, but fail to execute. We rely on our motivation and self-discipline to beat procrastination and to carry us over the rough patches, but it's like expecting to keep warm over a long winter with a couple of matches.
Life always gets in the way of things. After a while, we may even stop making any plans at all – why bother if we never seem to follow through anyway?
Our dreams don't disappear; our confidence does.
At the beginning of 2022, I would like to invite you to join me on a journey towards closing the gap between our intentions and actions.
I'll be exploring all the obstacles in the way and how to overcome them so that we can approach our goal setting and habit formation the right way. As they say: work smarter, not harder! 😉
REASONS WE DON'T DO THINGS – THE PROCRASTINATION PUZZLE
So to kick things off, here are some common reasons why we don't get round to doing what we would like to do/should do/must do and some ideas on how to fix it:
1. PROBLEMS WITH STARTING – THE HEART OF THE PROCRASTINATION HABIT
This one is pretty much the definition of procrastination and the reason why many of the fancy productivity systems don't work for some people.
It's easy to say just do it but quite another to implement it. Hence my advice is to figure out why exactly it is hard for you to START and then use one – or many – of the suggested fixes to make things easier.

And when you're done doing that, know the what, the why, and the how, but still struggle with JUST STARTING?
USE A TIMER – any timer, really. You can use a kitchen timer, or one on your phone, or a microwave, or the length of the commercial break (the environmental timers can also work as your action triggers and cues to kick off work).
It's best to start small – say, 2 minutes, 5 minutes, maybe 15 if you're feeling super pumped ;), and then add more, if necessary, when you build momentum.
2. WE FORGET.
Yes, often it is THAT SIMPLE. Life is busy and distracting
(especially if the distraction is what we are looking for)
FIX: This is a pretty straightforward fix: have something or someone remind you of what you want to do.
I highly recommend using pen & paper for this purpose, as I feel it is more intentional, but do what works for you best
Try to use CUE BASED PLANS and IMPLEMENTATION INTENTIONS

IF /WHEN….. THEN
3. WE DON'T KNOW THE NEXT STEP.
We don't exactly know what to do next, and we lack clarity.
FIX: Take a moment to map your next steps. I suggest that for every task you come up with, you draw at least 5-10 branches with smaller sub-tasks that can be done in a small amount of time. It will make things not only more detailed but also less overwhelming and easier to complete.
EXAMPLE: clean home
– clean the kitchen: – clean the oven – clean the stove – wipe the counters – mop the floor – shine my sink – unload the dishwasher – take out the trash
4. WE FORGET OUR "WHY".
You either never really investigated your actions' genuine reasons and motivations or simply lost touch with them. If you focus only on what's right in front of you and forget about the BIG PICTURE, things can get tricky. You lose connection to your actions- instant gratification is usually more appealing than the big picture. Sometimes you simply need to reconnect to your why & values, and then don't forget to make them visible at all times (post reminders in places you can see them often)
FIX: Take some time to think about what it is you want to do and why you're even thinking of doing it. Is it something you want to do or have to do?
WHAT DO I HOPE TO ACHIEVE BY DOING IT?
WHAT IF I DON'T DO IT?
WHAT IF I SUCCEED?
5. WE LACK CONFIDENCE/SUFFER FROM IMPOSTER SYNDROME
Sometimes, we know what and why we want to do something, but we have a hard time taking action simply because deep down, we do not believe in our own capabilities. You start overthinking things, second-guessing every move, and talking yourself out of things, or you begin 'forgetting' stuff.
It's not easy to be engaged in something if you don't believe in succeeding. In that case, some amount of resistance kicks in and derails your efforts.
FIX: it definitely is one of the hardest things to fix, but I suggest to:
TEMPORARILY SUSPENDING JUDGEMENT.
This one is about agreeing with yourself that once you figure out your what and why, for an agreed period (one week, one month, or three), you will not question your choices and simply follow the plan.START SMALL helps you manage the dread of feeling overwhelmed. Make a detailed list of all the little tasks and sub-tasks you can think of, even if they seem ridiculously small, and work through the list slowly.
6. WE FEEL OVERWHELMED read more here
Once in a while, you realize the scope of work you need to do, and it just paralyzes you.
FIX: break it down, start small. Make a mind map of the leading project, then divide it into smaller tasks and then further into even smaller sub-tasks. For every tasks, I like to add upfront at least 5 to 10 branches and then fill them in with the details (so your mind is pushed a bit to come up with smaller items)
NOT SURE WHERE TO START? Just start anywhere. No, really. I know the feeling when you look at things and think everything needs to get done, everything is important, and you then start pondering too much on where to start. That's a classic analysis-paralysis scenario. My suggestion?
Write down all the tiny tasks, each on a separate piece of paper, put them in a jar, and just draw one – there you go! You now know what to do next. And when you're done, pick another one.
You can even create a couple of different 'task jars' according to the time you need to complete them (5-minute actions jar – 30-minute task jar, etc.)
7. THE TASK IS BORING/HARD.
So you know what and why you want it and also have some idea of what needs to be done to achieve it, but the problem is: it's boring as hell or somewhat hard, unpleasant.
You want the outcome, but not the work – don't we all?!
FIX: make it easier and more fun! How? Here are some of my best tricks:
MAKE IT SMALLER – one of the best ways to help ease procrastination. It's one thing to imagine doing something you dread for a long time at one go and quite another to do it for 5 minutes. Chances are, once you get going, it will be much easier to carry on.
MAKE IT EASIER – REMOVE FRICTION -make it easier to start by preparing your tools for the job (finding files, getting the ingredients, gathering your cleaning supplies, placing your running shoes next to you)
REWARD YOURSELF– pick something pleasant you already do regularly and add a task you procrastinate on before it, so you can only do the pleasant/rewarding thing if you complete the task
clean your desk before you watch a youtube video
work on the report for 15 minutes and only then play that video game
do a 10-minute strength training before your morning latte
BURY IT IN SUGAR – think of a way to bundle tasks to take the edge off the unpleasant/boring tasks.
exercise while watching your favorite tv show
listen to a fun podcast/ audiobook while cleaning
PROCRASTINATION HABIT IS LIKE A HYDRA – BEAT IT
Procrastination is a bit like the mythical Hydra – you cut off one of its heads, and another two grow back. That said, it is possible to manage this condition and, over time, lessen its grip on your actions.
One of the best ways to beat procrastination is to know your opponent and adopt a flexible approach to it. There is no one easy fix to cure this complex behavior when the roots of it run deep. But imagine that instead of looking at it as a struggle, you start looking at it as a challenge!
READ MORE ABOUT HOW TO LEARN TO TAKE ACTION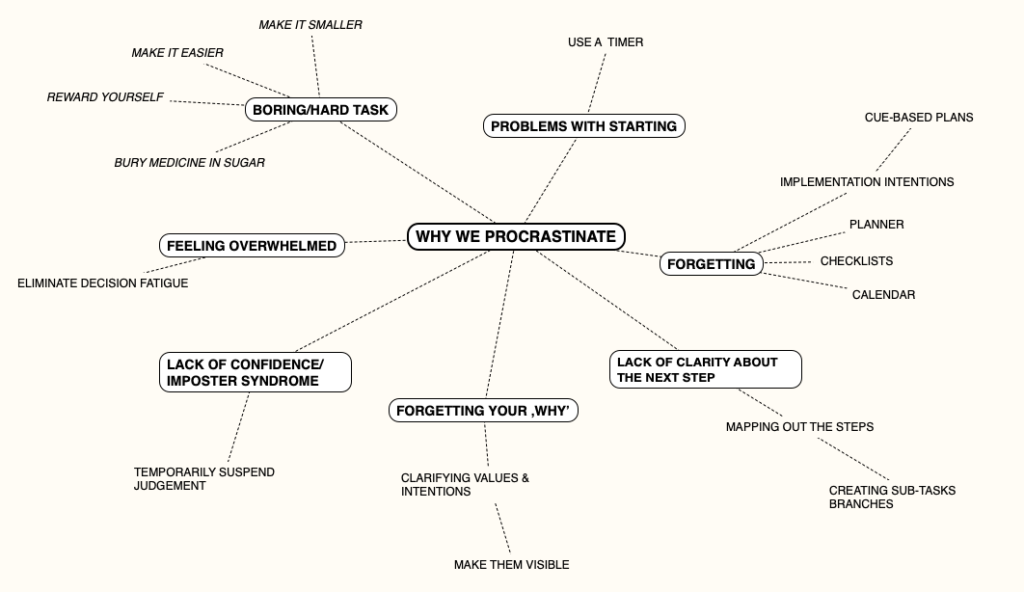 Please follow and like us: